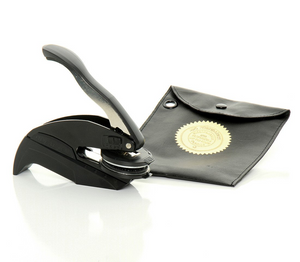 Corporate Seal
Regular price $0.00 $37.00 Sale
Did you know that in most States, a Corporate Seal is REQUIRED in order to open a business bank account?
Your Personalized Corporate Seal will customize immediately render Official every document you choose to have imprinted.
The handy fold away Corporate Seal fits perfectly into its special naugahyde pouch that has a beautiful gold foil imprint of your corporate information for easy and fast recognition. When you need to imprint on the go or just want something small and compact to store away, then the Pocket Seal is the right choice for your needs. You can choose from the 2 inch or the 1 and 5/8 inch model.